Ever since I started my vegan diet last August, I have been wishing for a meat substitute that actually tastes like meat. I don't like the texture of tofu. I don't like the texture of tempeh, unless someone else cooks it. Seitan is pretty good, but again, when I've made it at home, it's just not the same. Luckily the most glorious thing happened to me today - I discovered gardein fake chicken! It seriously tastes like actual chicken. I think it just changed my life.
I decided to make this memorable day even better by making something I haven't had the pleasure of eating in a long, long while. I got out my copy of
Skinny Bitch in the Kitch
by Rory Freedman and Kim Barnouin and found the perfect candidate - the barbecue "chicken" panini. Quick, simple, and for vegans like me who are skeptical of fake meat, to die for.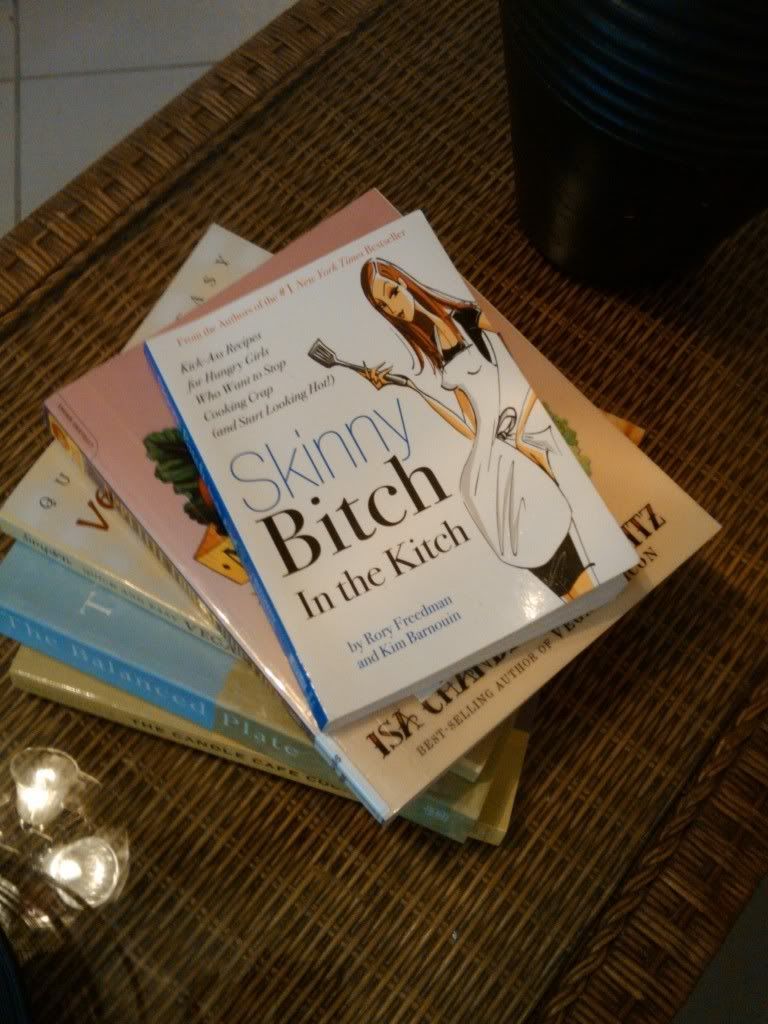 I started with two slices of Ezekiel 7 Sprouted Grains Bread. Have you ever used Ezekiel? It's really good, but it makes me so mad when I have to pry a slice from the frozen loaf. I always waste a big chunk because it's stuck together. This time I got smart and let it thaw out for a while before I needed it, but to no avail. I lost two big chunks. Damn. I smoothed a little coconut oil on one side of each slice, just enough to moisten them, and set them aside. I popped four (three for the sammy, one for dipping in BBQ sauce) of my new favorite gardein 7 grain chiken nuggets into a 430 degree oven for 20 minutes (flipped once), and got my bottled barbecue sauce and pre-made vegan coleslaw out. When the nugs were ready, I assembled my sandwich:
I spread some BBQ sauce on the dry side of one slice of bread.
I placed my three gorgeous nugs on top of the BBQ sauce. They totally smelled like chicken. I took a quick break to savor my leftover nug, double-dipping it into the sauce. Yes.
I spread some coleslaw on top of those bad boys.
I closed it up and heated it on a medium flame for 4 minutes on each side.
Mmmmm. I promise this tastes like a real barbeque chicken sandwich, even though it's chiken. I'm really picky, so you can trust me. And with some sauteed kale on the side, it served as a satisfying Thursday night dinner!